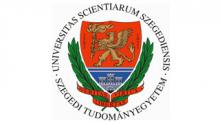 H-6722 Szeged, Egyetem utca 2.
Hungary
The Department of English Studies has been functional since 1995 as one of the three departments that constitute the
Institute of English and American Studies
, and also as one of the largest departments at the Faculty of Arts, University of Szeged. The careers of our graduates, our specialization programmes, publications and international conferences are indicative of the wide spectrum of interdisciplinary academic fields that the members of our faculty specialize in.
The Department of English Studies is responsible for the operation of the BA Programme in English Studies as well as the MA Programme which carries three specialization tracks: English Applied Linguistics, Interdisciplinary Study of Culture, Gender through Literatures and Cultures in English.
Our research activities are focused on the following academic fields:
•
Interdisciplinary Theories of Cultural Representations
•
Renaissance and Shakespearean Studies
•
Theoretical Linguistics
We regularly organize and host the following international conferences:
•
Current Directions in Hungarian Shakespeare Scholarship
•
Iconography East and West
•
Language, Ideology, Media
Research in the field of early modern and postmodern cultural studies is coordinated by our Research Group for Cultural Iconology and Semiography: 
Az Angol Tanszék 1995 óta működik az Angol-Amerikai Intézet részeként, mint a Szegedi Tudományegyetem Bölcsészettudományi Karának egyik legnagyobb tanszéke. Végzett hallgatóink sikerei, programjaink specializációi, az általunk rendezett konferenciák, kiadványsorozataink és publikációink tanúskodnak kollégáink eredményes tevékenységéről számos interdiszciplináris tudományterületen.
Az Angol Tanszék gondozza az Anglisztika BA alapprogramot és az Angol MA programot, ahol három specializáció közül választhatnak a hallgatók: Interdiszciplináris kultúratudomány, Alkalmazott nyelvészet, A társadalmi nem az angol nyelvű irodalmakon és kultúrákon keresztül.
Több nemzetközi konferenciát szervezünk rendszeresen:
Ki mere tart a Magyar Shakespeare-kutatásban? (2007 óta kétévente)
Iconology East and West (1995 óta ötévente)
Nyelv, kultúra, media (évente)
Definition of « Crisis » in Hungarian:
Crisis = Válság, Krízis
VÁLSÁG főnév -ot, -a Általában olyan nehéz, súlyos helyzet, ill. (sors)döntő esemény, amely rosszra is, jóra is fordulhat.
•
1. (biológia, lélektan) A szerves életfolyamatokban, fejlődésben nagyobb zökkenő, zavar, amely az egészséges életműködést is megzavarhatja. A serdülőkor lelki válsága. || a. (orvostudomány) Vmely betegség lefolyásában az a szakasz, amely után a beteg állapota v. jóra, v. rosszabbra fordul; fordulat, krízis. Tüdőgyulladásban régebben a 7–10. napon volt a válság. A válság után a beteg mindjárt jobban érezte magát, és állapota gyorsan javult.
•
2. (átvitt értelemben) Vkinek, vmely közösségnek az életében, tevékenységében olyan nehéz, súlyos helyzet, ill. esemény, fordulat, amelyben, amellyel hosszabb-rövidebb időre eldől a közösségnek v. vmely életmegnyilvánulásának sorsa; sorsforduló. Erkölcsi, szellemi, irodalmi, művészeti, színházi válság. A húszas években sok szó esett a nyugati kultúra válságáról.  Együtt állottunk őrt a nemzet jogai mellett az 1848-iki válság előestéjén. (Kossuth Lajos) Lelkemet már nagy válság ülte S voltam kis álmok kis őrültje. (Ady Endre)
•
3. (politika) Vmely állam belső politikai életében v. külpolitikai viszonyaiban olyan nehéz helyzet, amelynek további alakulásától függ az állam jövője, emelkedése v. hanyatlása. (Bel- v. kül)politikai, belső, forradalmi válság; Ž kiélezi a válságot.